Tate Britain

Construction Schedule: October 2011 – March 2013
Project: Tate Britain SEQ Project, Millbank
Services: Electrical, Mechanical, Plumbing
Client: Tate
Main Contractor: Lendlease
Sector: Culture
Contract Value: £5.8m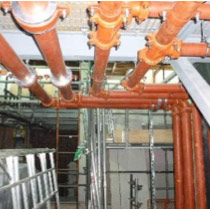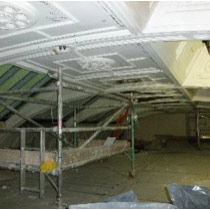 Project Background
Tate Britain SEQ Project included replacement of the main central plantroom, located from principal level to a newly created plantroom at roof level. Creation of a new kitchen plantroom at upper/intermediate levels serving the new catering facility at Lower level.
Scope of Works
New heating and chilled water mains from the engineering basement through a service trench and riser to all plant areas and serving the reformed galleries. Logistically the plant and equipment were craned and installed in through a temporary over-roof structure which had to remain throughout the course of the contract to protect the galleries below. This involved close liaison with the management contractor and temporary works contractor to open up sections of the roof at agreed dates for plant installation from cranes located in the John Islip Street site compound (very restricted movement) and for the River Rotunda plant from Millbank layby with a partial road closure.
Attention to Detail
PW's M&E designers worked in conjunction with the Tate design team over a 6 month period to develop 2d and 3d design of the services general arrangements, plant-rooms and tight detail areas where the proposed services were installed into the existing listed building structure in the lower, principal and upper levels.
Whilst this was a very dedicated, sometimes difficult and time consuming process it has ensured that the outturn detail design and installation drawings provide the design team with sufficiently accurate information to satisfy them that what PW installed for the client at the end of stage 1A and 1B was exactly what the client expected. This attention to detail also ensured that the M&E services fitted into the restrictive building openings and could be safely and fully maintained at a later date
Crash decks and access platforms were used to replace the mechanical and electrical services within the ornate fibrous plaster ceiling, which were retained wherever possible due to the listed nature of the building