Holborn Police Station

Construction Schedule: June 2015 –
Project: Holborn Police Station
Services: Refurbishment
Client: Vinci
Sector: Government
Contract Value: £1.2m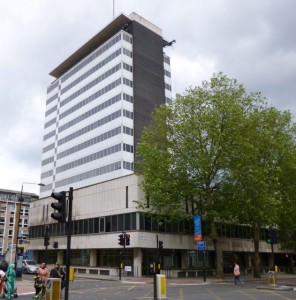 Project Description
Phase refurbishment of the 1960's 12 storey building which houses the Met Police custody suites, firing range, vehicle unit, offices , canteen and recreational facilities for approximately 500 officers, support staff and operational teams.
Holborn Police Station is a reinforced concrete framed concrete clad building completed in the mid 1960s. The premises comprised sixteen stories sitting over sub-basement plant rooms, basement car park and lower ground secure training room, giving a combined gross internal floor area of 11.139m2, which accommodated approximately 500 desks.
The layout of accommodation was predominantly small cellular offices format resulting in double corridor situations and reduced workstation densities, the mechanical and electrical systems were inefficient and require updating.
Scope of Works
The scope comprised of a 're-stack' of the existing accommodation within Holborn Police Station. This was undertaken with a phased approach. Typical floor plate refurbishments included:
An open desk system interspersed with storage areas, several single officers, quiet rooms and break out areas.
Upgrade and or replacement of comms, IT, air conditioning, chilled water and heating plant, central air handling units, emergency lighting and fire alarm system.
Upgrade/replacement of equipment in the kitchen was also required on each floor.
All other services were maintained throughout the construction period including temporary hot water production in the basement serving all floors.