Manchester Cancer Research Centre
Construction Schedule: August 2013 – December 2014
Services: Mechanical, Electrical, Plumbing
Client: University of Manchester
Main Contractor: The University of Manchester
Sector: Healthcare
Contract Value: £5.7m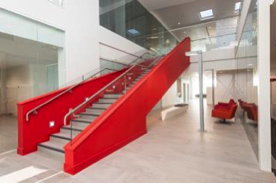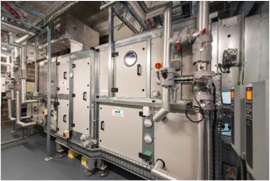 Project Background
Mechanical , Electrical and Public Health services for the new build research facility at The Christie Hospital in Manchester.
The new MCRC research building provides over 6,000m2 for expansion of research activity. It was designed to promote interaction between the different research groups with sharing of common resources and equipment.
Breeam Assessment
The building design was subject to a Building Research Establishment Environmental Assessment Method (BREEAM) assessment. BREEAM sets the standard for best practice in sustainable design and has become the measure used to describe a building's environmental performance. The target is an 'Excellent' rating – one of the highest BREEAM ratings a building can achieve.
Scope of Works
The building design has incorporated as much natural ventilation as possible – 85% of the offices and 25% of the open plan office accommodation are naturally ventilated.
A central lightwell was incorporated to allow daylight to penetrate through the centre of the building and to reduce the amount of artificial lighting needed during daylight hours. The lightwell roof glazing was orientated to minimise unwanted solar gain to help reduce the associated cooling costs.
The design of the walls, floors, windows and roof has improved on Building Regulations thermal performance requirements by 40%. The building fabric has also been designed to improve on Building Regulations air tightness requirements by 50%. These improvements have contributed to reduced energy consumption by limiting heat loss through the building fabric.
Attenuated surface water drainage – storage that holds surface water and feeds it into the drainage system gradually – has been incorporated to reduce the risk of flooding by more effectively managing surface water runoff.
A rainwater harvesting system has been provided to receive the rainwater runoff from roof areas, and supply recycled water to the lavatories in the building – this should supply around one-third of the water needed for flushing every year.
Recycling waste points have been strategically located on each floor of the building within the office and write-up areas. An external store for recycling and general waste has also been provided within the service compound at the rear of the building.
Cyclists have a lockable, covered cycle shelter and access to showers in the building – one male and one female on every floor.