MRI CCU Infrastructure Upgrade

Construction Schedule: February 2015 – September 2015
Services: Mechanical, Electrical and Plumbing
Client: Manchester Joint Hospitals NHS Trust
Sector: Healthcare
Contract Value: £2.2m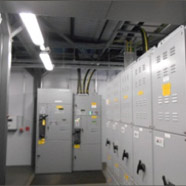 Project Description
This infrastructure was installed to provide resilient power supplies to the Critical Care Unit and future life cycle elements of the hospital.
Scope of Works
Installation of 3×1600 KVA cast resin close coupled transformers and associated switchgear including the HV network, Installation of 2No 1500 KVA generator sets and interconnection cabling and the Installation of ASCO switches which were networked.
Once all of the above items of plant were positioned into the roof areas and prior to any testing and black building test each system was tested and controlled individually and fully interfaced into the site wide TAC Schneider BMS system and the head end software and graphics updated.
Each of the separate packages of equipment were procured and installed off site and lifted onto the existing hospital roof as package plant rooms. This was all undertaken whilst a live hospital environment was maintained including a partial road closure which was planned and agreed with the Trust, fire officer and care staff.