Hanover Square

Construction Schedule: Aug 2015 – 45 weeks
Project: Hanover Square, Oxford Street
Services: Mechanical, electrical, plumbing
Client: McLaren Construction
Sector: Office and retail
Contract Value: £2.4m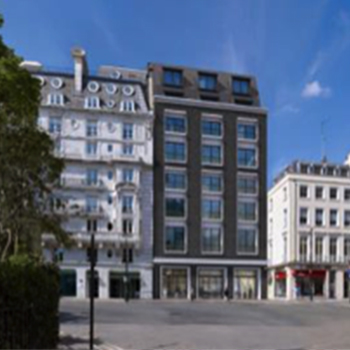 Project Description
A new development at the corner of Hanover Square and Oxford Street connecting two properties currently separated by an internal courtyard which created around 63,500 sq ft of office and retail space.
McLaren was appointed by Aviva Life & Pensions to demolish the existing office and retail buildings and construct the new eight storey building.
The Building
The new development, built over seven floors and basement, comprised around 15,000 sq ft of retail space and 48,500 sq ft of office space.
Constructed with a structural steel frame and composite concrete floors, the new building featured three levels of retail space (over basement, ground and first floor levels), a high quality reception, Portland stone walls and a roof garden.
Scope of Works
The Oxford Street façade consisted of precast panels with faience tiles and feature bay windows, while the Hanover Square façade consisted of brick slip precast panels and curved glazed units. Flanking walls were finished in a variety of brickworks.
Full Cat A Mechanical , Electrical and Public health services to all levels with plantrooms at basement and roof levels.
We produced fully co-ordinated Revit models for all services and utilised the structural model and architectural details to ensure all plant and equipment fitted with the tight footprint and structure.