Soho House Hotel
Construction Schedule: October 2016 – March 2017
Services: Mechanical, Electrical, and Plumbing
Client: Soho House
Main Contractor:
Sector: Commercial
Contract Value: £860k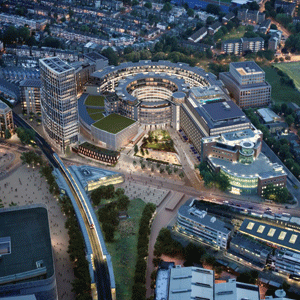 Project Background
This project included the development of a 36-bedroom hotel for Soho House on the 2nd and 3rd floor levels of the iconic Helios Building. This development is part of the first phase of redevelopment at the BBC Television Centre on Wood Lane, London.
Piggott & Whitfield began working with the Soho House in-house design and delivery teams to develop 3D designs and visualisations in order to convey to the base build team and developer exactly how we intended to fit out the shell and core areas.
Scope of Works
Each floor has services derived from the base build main risers and is routed through the main hotel corridor to serve each room.
Each room also has dedicated fan coil and controls for individual heating and cooling, supplemented with a local heat recovery supply and extraction unit ducted within carefully concealed bulkheads, which where incorporated into the external elevation details at a very early stage.
Also, due to the nature of the existing concrete exposed soffit within the rooms and the tight floor to ceiling heights in the corridor, we had to fully co-ordinate all services including data, power, lighting, chilled water, heating, domestic hot and cold water, drainage and sprinklers prior to any agreement and sign-off by the landlord's team.